We offer several programs for Adults through the Tennessee Nutrition and Consumer Education Program (TNCEP):
The Eating Smart at Home program is offered at different locations such as the Senior Citizens Center, the Templeton Community Center at the Shelbyville Housing Authority and our Extension office. We also offer this program to agencies that have qualifying groups that are looking for nutrition classes. Call us if you are interested in attending these classes (usually 6-8 sessions) or setting up a schedule for your group. We offer this class in English or Spanish.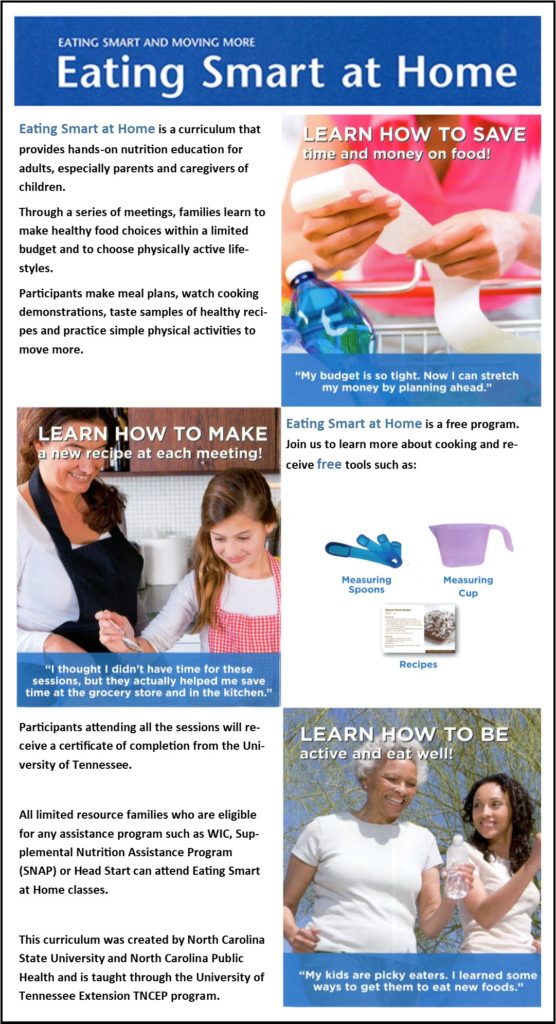 Contact Information
Yesenia Garcia
TNCEP Program Assistant
931-684-5971
The Farmers Market Fresh Program is offered through demonstrations and samplings at the Bedford County Farmers Market. The market is held at the Celebration Pavilion under the blue water tower by the Celebration grounds. It usually opens around the first of June and runs through October on Tuesdays at 2:30 p.m. – around 5:00 p.m. Come see us each week for recipe cards, samples, nutrition information and more! Click here to visit the Farmers Market Website.