Family and Community Education Clubs are groups of members that meet once a month for an educational lesson, community service projects and fellowship. Membership is open to anyone interested.
Bedford County has 8 clubs. Here is a schedule of the meetings. For more information about a club, call the Extension Office at (931) 684-5971.
| | | | |
| --- | --- | --- | --- |
| Club Name | Meeting Day | Meeting Time | Location |
| Butler's Creek | 2nd Monday | 6:00 pm | Homes/Extension Office |
| Heart of the Home | 1st Monday | 10:30 am | Extension Office |
| Fairview | 3rd Wednesday | 10:30 am | Extension Office |
| Four Corners | 4th Monday | 6:00 pm | Homes/Extension Office |
| Liberty | 3rd Monday | 6:00 pm | Pleasant Grove United Methodist Church |
| Shelbyville | 1st Tuesday | 9:30 am | Homes/Extension Office |
| Town & Country | 2nd Monday | 11:00 am | Cannon United Methodist Church |
| Wheel | 2nd Thursday | 12:00 pm | Shiloh United Methodist Church |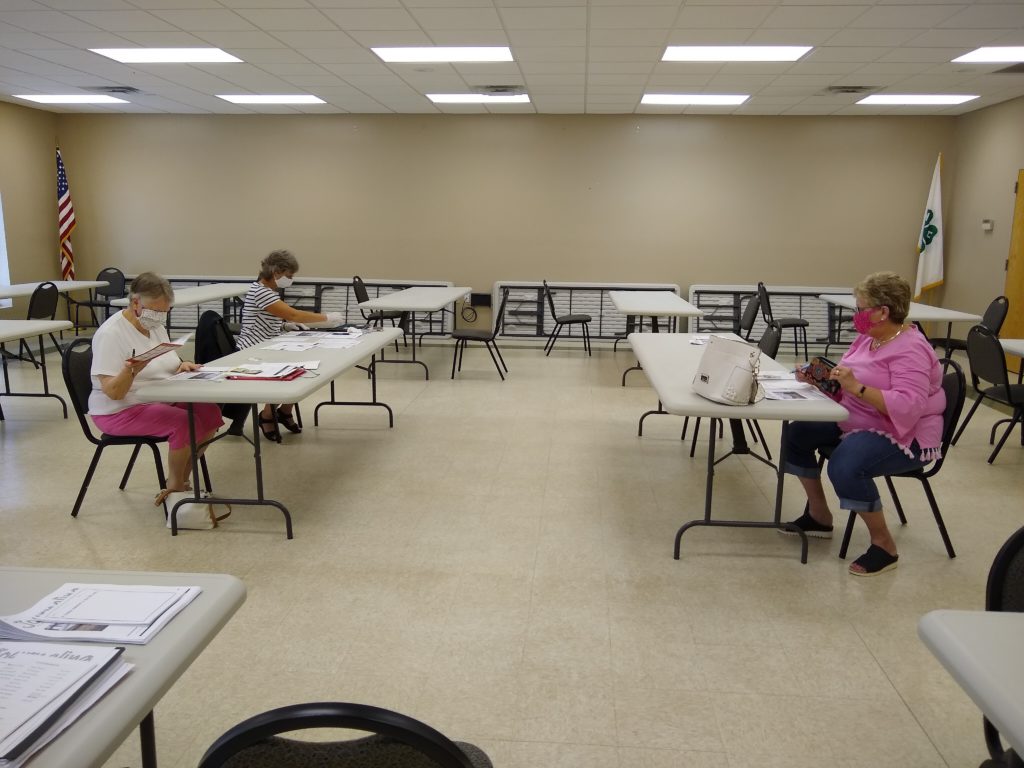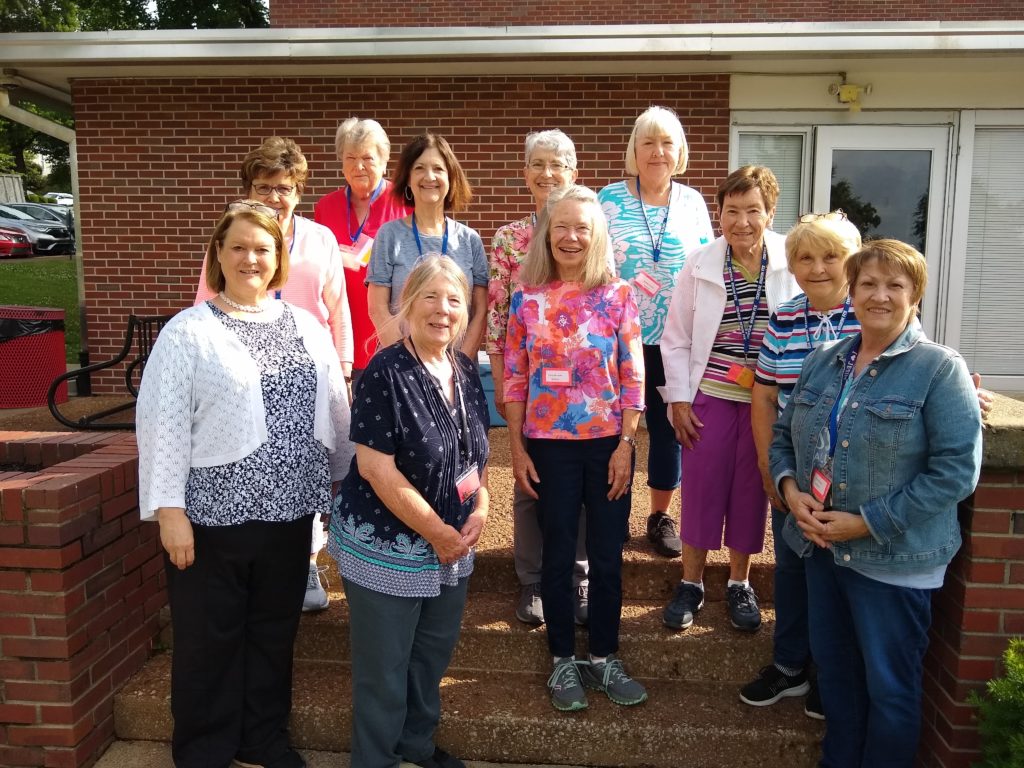 Ten FCE members and the FCS Agent attended the Central Region FCE Leadership Retreat (Camp) at UT Southern in Pulaski, Tennessee. Attending were:
Front Row (L-R): Agent Whitney Danhof, Pat Crick, Amy Martin
Second Row (L_R): Charlene Judd, Connie Smith Patty McIntyre, Barbara Troxler, Louise Armstrong
Back Row (L_R): Gay Ervin, Gloria Crick and Debbie Crosslin
Participants enjoyed 3 days of craft classes, educational sessions, speakers, a silent auction, tours, a movie and lots of fellowship and fun!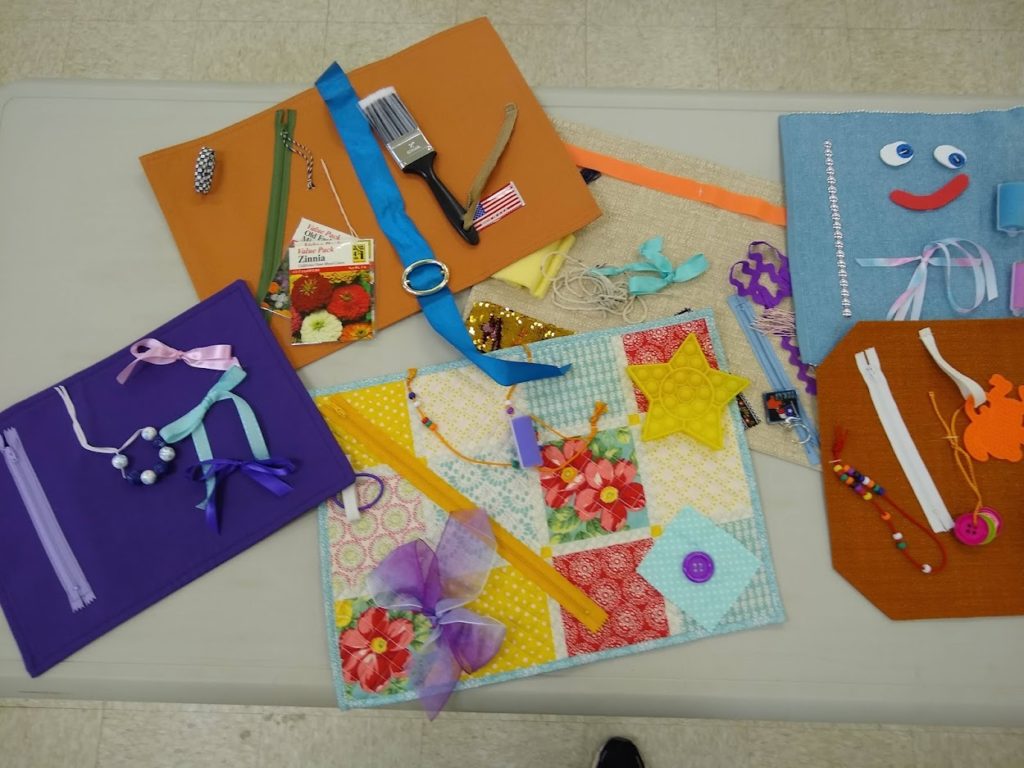 Several clubs are currently making fidget blankets for Hospice to use with individuals with dementia disorders. The placemat or blanket is covered with different textural items and activities like tying bows or sliding zippers or moving beads on a cord. This is one of the community service projects that the clubs participate in throughout the year.
Announcements:
Extension Agent, Whitney Danhof, will meet with the clubs in June with a program on "Tomayto, Tomahto".
50 Year Member Applications due July 1 to Pamela Sites – see your club president, the Extension Office or below for a form
County Council Meeting, July 1, 2022 at 10:00 a.m. at the Extension Office.
Bedford County Fair, July 18-23, 2022. Entries taken on Sunday, July 17, 1:00 – 5:00 p.m. See the categories and rules here.
If school is canceled due to weather, we will not have any countywide event – individual clubs may make their own policy for inclement weather. If your club is canceled for weather, count everyone present on your records and you do not have to make up that meeting.
Forms and Resources
Central Region Annual Meeting Information Sheet
Family and Community Leadership (FCL) Information and Application Form
Dues Form
Camp Forms

Registration Form
Marketable Skills Form
Mildred Clarke Scholarship​
Instructor Form

Programs
Bedford County Fair
FCE State Conference (Members call the Extension Office for the registration packet to be e-mailed or stop by to pick one up))
Scholarships (Members Only may apply)
Regional and State Newsletters
Central Region
January 2018
​State
Escape to Tahiti Game
​General Set Up
Items for Tables for Each Team
Items for Vacation File for Each Team

Envelope Labels for Closet and Refrigerator