UT/TSU Extension provides services and opportunities to the residents of Bedford County.
Needs and Opportunities
Volunteer for an event (FREE)
We have opportunities for volunteers to assist with 4-H events and project groups, county fair livestock shows and entries, Environmental Awareness Week, and more.
Sponsor a camper ($325)
Send a 4th, 5th or 6th grader to 4-H Junior Camp this summer June 8-12, 2020. A committee of Extension and school personnel will select disadvantaged youth recipients or you may name a child you would like to sponsor. This is an experience that children remember for the rest of their lives. Let's give every child we can a chance to experience 4-H Camp.
Purchase a School of Gourmet Arts Cookbook ($20)
These Cookbooks contain every recipe (over 430) from the School of Gourmet Arts cooking classes taught from 2006-2012. It is a valuable resource for any kitchen and makes a great gift as well. Divided into menus, it gives you ideas for entertaining as well as tips and tricks we have learned along the way. Proceeds from the sales go to support Extension programming. Stop by our office to get your copy!
Endowment Fund
Bedford County Extension has an endowment fund for contributions.  For more information, contact John Teague at 931-684-5971.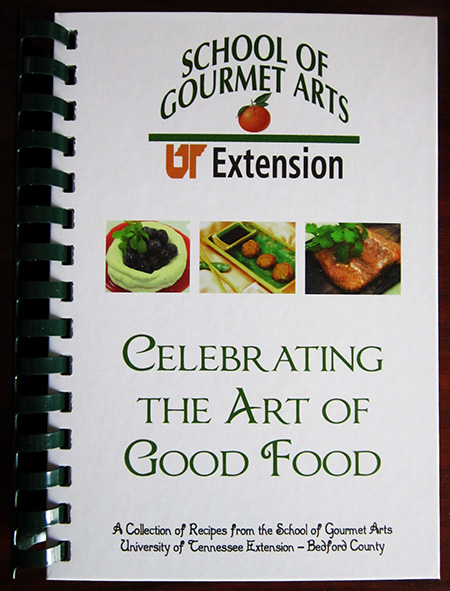 If you are interested in supporting county programing efforts, please contact John Teague, Bedford County Extension Director, (931) 684-5971, jteague1@utk.edu.
Additional Support Opportunities
Your gift is an investment in the students, faculty, and programs of the University of Tennessee Institute of Agriculture. Thank you for considering a donation to continue the land-grant mission of Creating Solutions for Life.
The Tennessee 4-H Foundation provides financial resources for the Tennessee 4-H Youth Development Program. Your contribution helps make this dream possible in your local community and across the state.