UT Extension provides services and opportunities to the residents of our county. You can help support programs in your county in several ways.
Volunteer
You can volunteer to serve the community through service projects, including help with 4-H programs, agriculture programs or Family and Consumer Sciences (FCS) programs. More information about how to volunteer and the Volunteer Application Form (step 3) can be found on the Volunteerism webpage.
Donate
Your gift is an investment in the programs of the University of Tennessee Institute of Agriculture, including this county's Extension program efforts. Thank you for considering a donation to enhance our efforts to provide Real. Life. Solutions. in your community.
The Tennessee 4-H Foundation provides financial resources for the Tennessee 4-H Youth Development Program. Your contribution helps make this dream possible in your community and across the state. Click the "Support 4-H Youth Development" button and under the "Direct My Gift" heading, chose "A Specific Fund (I'd like to choose)" option, then chose "Specific County." Select your county from the dropdown list.
Purchase a School of Gourmet Arts Cookbook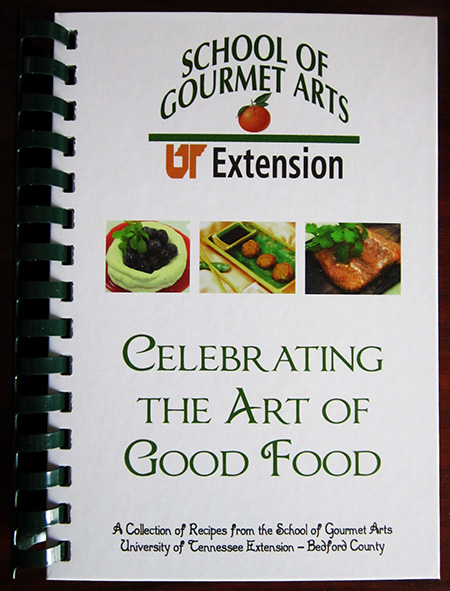 Cost $20
These Cookbooks contain every recipe (over 430) from the School of Gourmet Arts cooking classes taught from 2006-2012.  It is a valuable resource for any kitchen and makes a great gift as well.  Divided into menus, it gives you ideas for entertaining as well as tips and tricks we have learned along the way.  Proceeds from the sales go to support Extension programming.  Stop by our office to get your copy!

Thank you for your support!