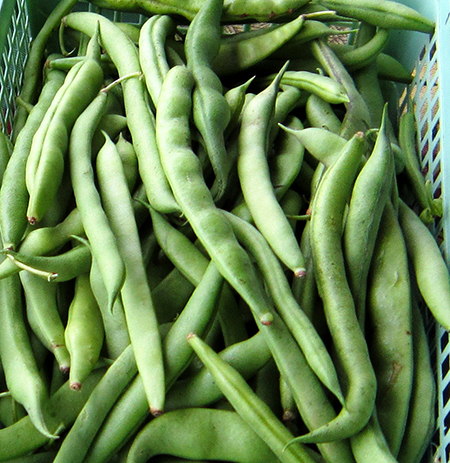 SELECTION
Look for undamaged pods that are firm (not wilted) and snappy with small beans inside. Larger sized beans in the pods (like Blue Lakes) indicates more mature beans and may have tougher pods. Try to choose beans that are similar in size to ensure even cooking.
STORAGE
Store beans loosely wrapped in paper towels in an open plastic bag in the refrigerator. Don't cut or snap them until just before using.
PREPARATION
After washing the beans, you can leave them whole or break or cut them into pieces. The old fashioned way is to break (or snap) off the ends and then into pieces about 1″ long. You can also line them up and cut off the ends and into pieces. You can cut them crosswise, diagonally or lengthwise (French cut). If leaving whole, just take the ends off. They tend to retain their color better when cooked whole.
EDIBLE PARTS
Pods with immature beans. If the beans get too big, use as shelled beans.
HOW TO TRY
Green beans are usually cooked but can be a great addition to a salad raw or just blanched. Blanching in boiling water for a couple of minutes and then plunging into ice water will help set the bright green color. Try them in a pasta salad. Use blanched green beans on a vegetable tray with dip or blanch and dress with a vinaigrette and crumbled cheese and nuts for a different salad.
Green beans can be enjoyed either long cooked Southern style or less cooked Northern style – either crisp tender or more tender. Either way is delicious, they are just different dishes.
For Southern style, boil/simmer the beans with ham, salt pork, ham hock, country ham, butter or bacon. Sear the meat first to render a little fat and then add the beans with water. You can also cook them in ham broth without the meat or fat. Let them cook slowly over an hour or two. Small potatoes or onions can also be added to the pot to boil along with the beans.
For Northern style, you can boil, steam, microwave or sauté the beans. The beans can be dressed with many types of sauces or toppings. Try adding browned butter and toasted almonds or a vinaigrette dressing and feta cheese or sauté with cherry tomatoes and add balsamic vinegar.
Casseroles are another way to enjoy green beans. Holidays are often celebrated with the traditional casserole with fried onion topping or you can add them to chicken casseroles or with corn.
VARIETIES
Beans have two ways they grown – either on a bushy plant (bush beans) that tends to bear in a short time frame or on a vining plant (pole beans) that climbs up a support and bears over a longer period. The bush beans are generally better for canning or preserving as they all come in at once while the pole beans come in fewer at a time for fresh eating – although you can use them either way. The growth habit doesn't determine the flavor or type of bean – just the way in which it produces.
Haricot verts or French Beans – These are longer, thinner and more tender than most green beans. The name is French for green bean.
Blue Lake – This variety is one of the standards of the bush beans (it also comes in a pole version) with cylindrical pods and tiny beans inside. It is a popular canning bean.
Romano – These beans are a flat podded pole bean that can be green, yellow or purple. They are crisp and sweet and can be used for fresh eating or canned. This type of flat podded bean is often referred to as Italian beans.
Yellow Wax – These beans are a bush bean and are like the green beans except for color. They are often used in three bean salads.
Cooking Techniques
Blanching
Roasting
Grilling
Boiling
Steaming
Braising
Sautéing
Stir Frying
Deep Frying
Flavor Pairings
Pork – Ham, Bacon
Onion
Dill
Rosemary
Almonds
Butter/Browned Butter
Vinegar
Citrus/Lemon
Corn
Potatoes
Tomatoes
Yellow Squash
Dried Fruits like Raisins/Dried Cranberries/Dates