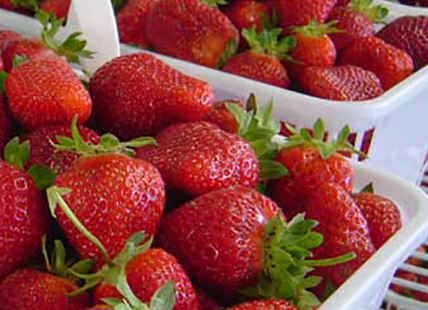 SELECTION
Select strawberries that are plump and firm with no signs of decay or mold. The seeds should be dimpled into the surface (not dried out on the outside). The color should be evenly red without white or green tips or tops and should be glossy. Strawberries do not continue to ripen after picking so be sure they are at peak ripeness when harvested.
STORAGE
Strawberries are very fragile. They like a cool place (about 35 degrees F) with high humidity (90-95%). Do not wash or hull them before storing and be sure to remove any moldy or decaying ones so they don't contaminate the others. Place in a closed container to help retain humidity and store in the refrigerator for up to a week but they will start to lose a lot of nutrients after 2 days.
PREPARATION
Wash berries just before using. Don't let them soak in water as they will absorb it and become mushy. Hull the berries after washing so they don't absorb any excess moisture. Here are some helpful equivalents for Strawberries:
1 pint = 2 1/2 cups whole berries
1 pint = 2 1/4 cups sliced berries
1 pint = 1 2/3 cups pureed berries
1 pint = about 12-14 large berries
EDIBLE PARTS
The berries are the part of the strawberry plant that is usually consumed. The flowers, which are edible also, can be used to add a pop of color to a salad or as a garnish, although people usually let them mature to the fruit.
HOW TO TRY
Strawberries are great just on their own as a snack. If you want to get a little fancier you can add a fruit dip or whipped cream.
Blend up strawberries in a smoothie or make strawberry ice cream.
Layer into parfaits with yogurt and granola.
Stuffed strawberries make a good finger food as well as dipped strawberries. To stuff, quarter the strawberry from the tip to almost the hull, leaving the top of the strawberry still intact. Pipe a filling, usually cream cheese based, into the cut. Strawberries dipped in chocolate are an elegant treat.
Try making a salsa with strawberries in place of the tomatoes.
Salads are another great use for strawberries. You can combine them with other fruits for a fruit salad- either plain or add a dressing of yogurt, pudding or whipped cream. Spinach salads with strawberries, nuts, green or red onions and either blue or feta cheese are also delicious with a vinaigrette style dressing.
Try adding strawberries to your favorite chicken salad for a refreshing twist.
Strawberries aren't often cooked, except for jam, but roasted strawberries make a deeply flavored chunky topping for poultry and pork or for sweets like pound cake or ice cream. The flavor of the strawberry intensifies and condenses as the liquid is evaporated.
Desserts are a natural place to use strawberries as their sweet flavor satisfies the after dinner sweet tooth. Shortcakes are the standard – try an angelfood cake for a lighter twist to this seasonal favorite or spongecake, biscuits or pound cake work also. The berries are usually macerated (see below) with a little sugar to create a juice for the shortcake. All kinds of pies and tarts are filled with strawberries as well.
VARIETIES
Sweet Charlies – these are an early bearing variety with medium size fruit that is very sweet and has a relatively low acid content
Chandler – these berries start about a week after the Sweet Charlies and produce from early to mid season. They are very large, have an excellent flavor, and are good for fresh eating and very good for freezing but are fair for processing.